Find your "Happy" with great cycling around the Mas des Romarins whatever your level
We're lucky to be surrounded by magnificent countryside and stunning landscapes, with literally dozens of different cycle routes at all levels. All of it is it right in your doorstep during a stay at the Mas des Romarins.





Our Accreditation « Accueil Vélo »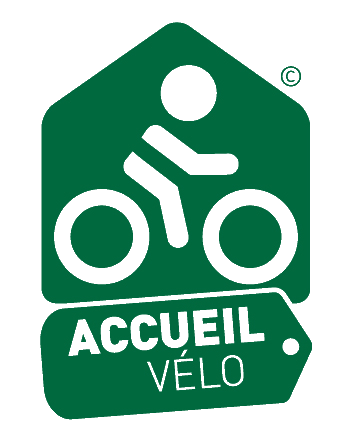 We've been recognised since 2021 as a fully accredited cycling partner establishment when we were awarded our Accueil Vélo accreditation.
But what does that actually mean for you as a cyclist? Well, it means we offer cycling-specific information such as practical guides, cycle routes, what to see and do, where to eat, weather updates, details of local cycle repair shops, cycle equipment hire etc. all of which we trust will be useful during your stay at the Mas des Romarins.
A wheelie warm welcome !
At the Mas des Romarins we pride ourselves on a warm and truly tailored welcome to guests enjoying a cycling holiday, whatever your level. We have a well-equipped cycle repair workshop on-site, secure bike shelter, four road bikes you can borrow free-of-charge, a partnership with a professional repairer and rental company, contact details of baggage-forwarding partners, in fact pretty much all you will likely need for a great cycling stay.
In addition to the practical cycling side of things, we also offer ways to make your stay more comfortable: laundry and bike cleaning equipment, early breakfasts and even zero-waste packed lunches. A stay at the Mas des Romarins will get your cycling tour off to a great start.
Practical tips & advice
We'd be delighted to suggest various cycle routes to match what you are looking for: heritage routes to discover the surrounding mediaeval villages and historic sites, mountain biking routes accessible to everyone, irrespective of level in idyllic, green countryside and routes for professional cyclists looking to push themselves whilst enjoying the striking beauty of Provence.
The "Accueil Vélo" at a glance
How to get to us from local cycle routes
A warm and personal welcome tailored to cycling guests
Practical cycle information during your stay with us at the Mas des Romarins
Weather updates
Baggage transfer service (chargeable)
Concierge service for local bookings (restaurants, taxis, next accommodation etc.)
Washer/dryer service
Free loan of road bikes
Free internet access (Fibre-optic)
Secure cycle store
Well-equipped cycle workshop
Minor repairs kit
Bike cleaning material
Electric battery re-charge-point
Areas to relax
Tailored services and breakfasts (hours of service, picnics etc)
Long-stay car park if your cycling on further
Zero-waste, responsibly-sourced picnic (chargeable)
Our partnership with South Bike Repair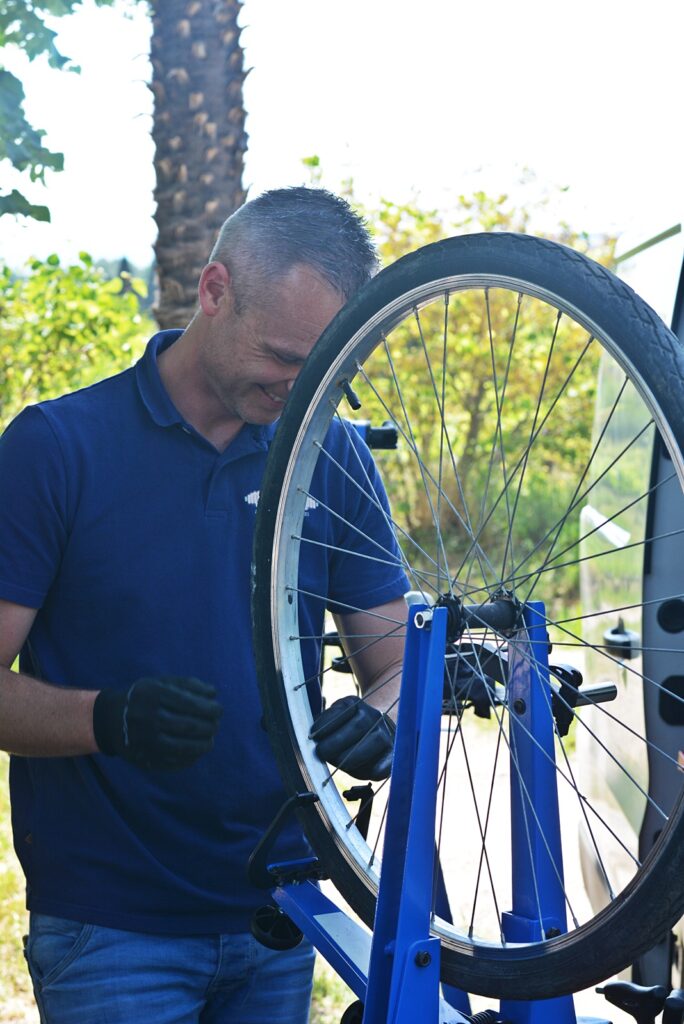 For bike repairs on-site or as a breakdown call-out, we're delighted announce our partnership with Emmanuel, a keen cyclist and repair enthusiast who also happens to be the owner of South Bike Repairs!
Whether it be a repair, general maintenance, fine tuning or even a bespoke build or cycle upgrade for road and mountain bikes, he'll take care of everything and will even come to you on-site at the Mas des Romarins to carry out the work from his mobile workshop. Which all means you'll have a safe and high performance bike on your hands, be it classic or electrically-assisted.
Manu's workshop also offers electric bike hire with on-site delivery to the Mas des Romarins, enabling you to discover at ease, the surroundings bear the Mas and our beautiful region.
His tariffs, exclusively negotiated for you as a guest of the Mas des Romarins are as follows:
Small repair (40€)
Complete check-up of the bike
Tyre inflation
Non-technical repairs
"Premium" repair (60€)
Complete check-up of the bike
Tyre inflation
Repair and replacement of consumables
Fine tuning post-repair
Electric cycle hire
1/2 dayelectric bike hire including delivery to the Mas des Romarins (65€)
Full day electric bike hire including delivery to the Mas des Romarins (95€)
So there really is no excuse now for not taking advantage of a fantastic way to get out and about, even in the heat and explore our stunning countryside at your leisure!
The Eurovélo 8 cycle route
Fayence and its surrounding area is also home to part of one of the longest cycle routes in Europe – the Eurovélo 8 cycle routes links 12 countries following a stunning itinerary right around the Mediterranean from Cadiz in the South of Spain across to the East via Greece and Turkey to finish up on the Island of Cypress. A delight for passionate cyclists!
Le Mas des Romarins is just a hop away from the EV8 (1.5km), so we're perfectly placed to assure you a comfortable and memorable stay for our bit of your journey.
A broad range of routes
So we've several cycle routes – both printed and virtual – for all tastes and levels around the Mas des Romarins. Just ask us for a tip or two and we'd be delighted to advise or you can download the routes – all referenced by our local Tourist Office Pays de Fayence – for yourselves as PDFs using the links below.
Discover the widget "La Méditerranée à Vélo"