Ett varmt välkomnande
Välkommen till Mas des Romarins, en gammal fransk lantlig mas och före detta blomstergård, som nyligen ackrediterats som en chambre d'hôtes de reference av den franska turistbyrån. Helt renoverad, denna "Grand old lady" ligger på 3,5 hektar, omgiven av vingårdar och bara några minuter från den historiska bergsbyn Fayence.
​Detaljer är viktiga för oss och vi vill att du ska känna dig välkommen till oss. En vistelse hos oss ska bli det perfekta resmålet för kräsna gäster som letar efter en diskret, "tillbaka till naturen"- lyx på bed & breakfast-basis. Vi har en policy på minst 3 nätter, men är övertygade om att du efter din första natt kommer att vara glad över den andra och den tredje!
The house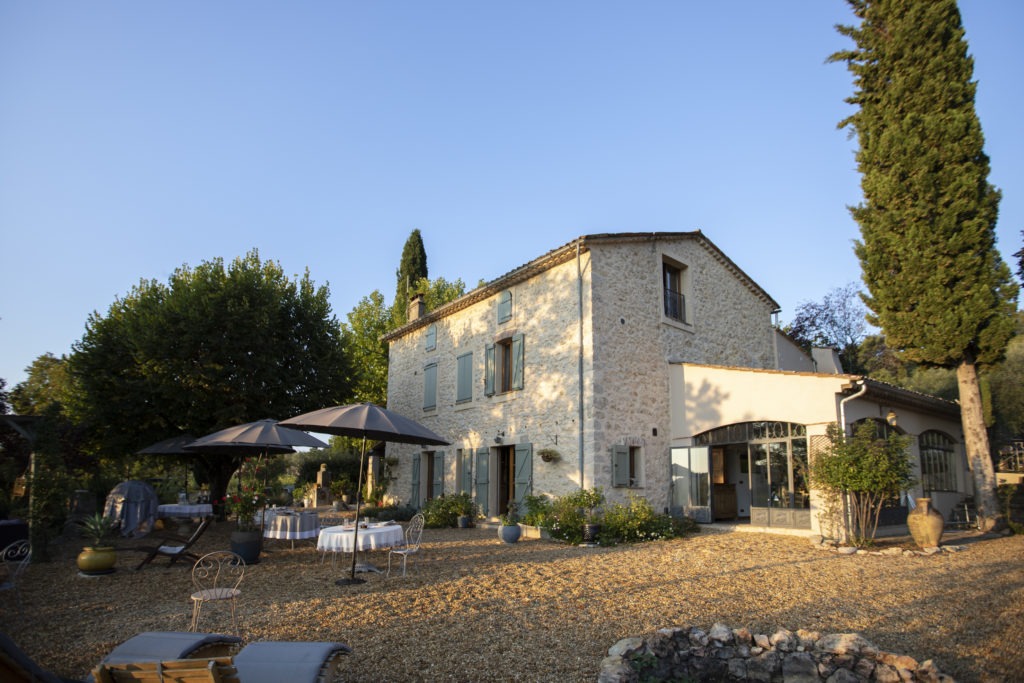 The Mas is a traditional stone-built farmhouse in true Provencal style and is a haven of tranquillity that has been completely refurbished to a high standard.
The grounds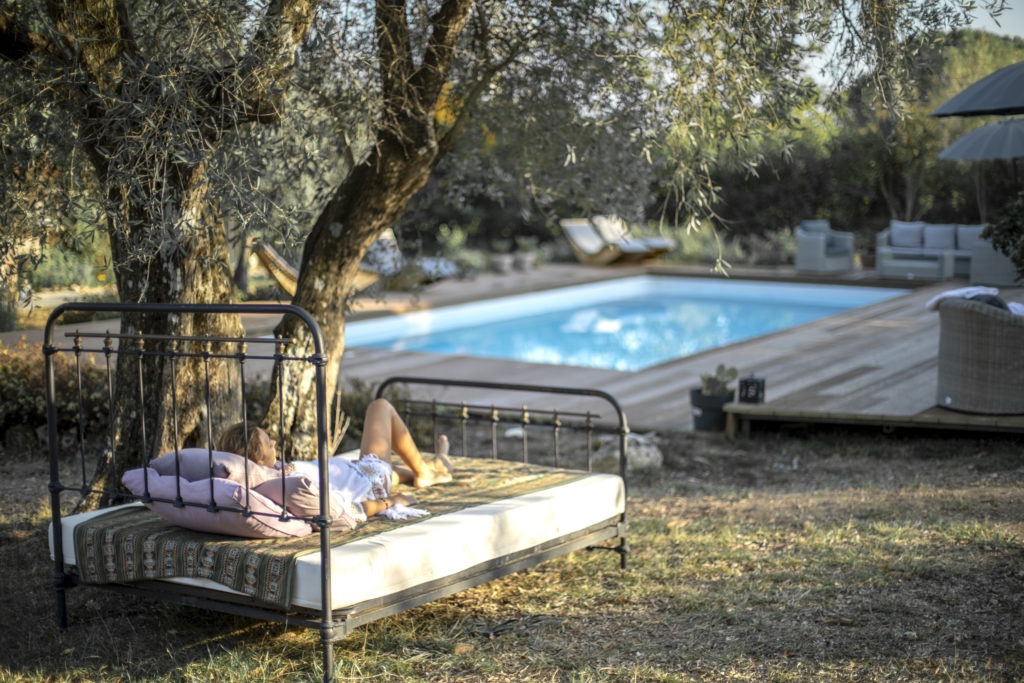 We've created multiple spaces to socialise or to disconnect as the mood takes you: we've a large swimming pool with a wrap-around decking area shaded with citrus trees…
Ecology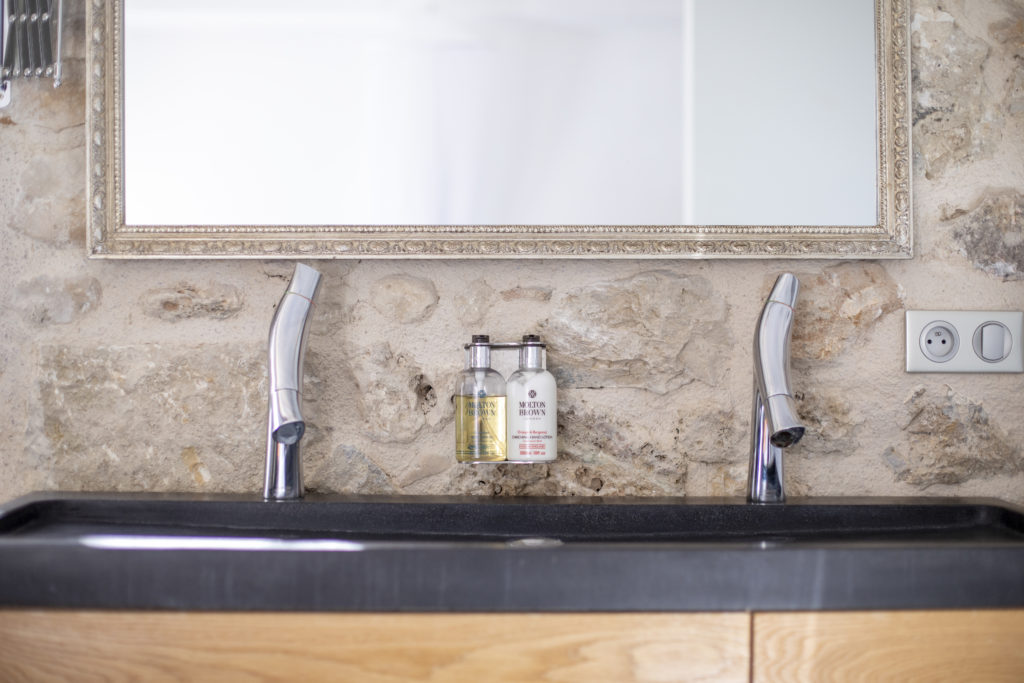 We take our impact on our local environment very seriously and have put in place a number of measures to protect and minimise our local impact…
Our story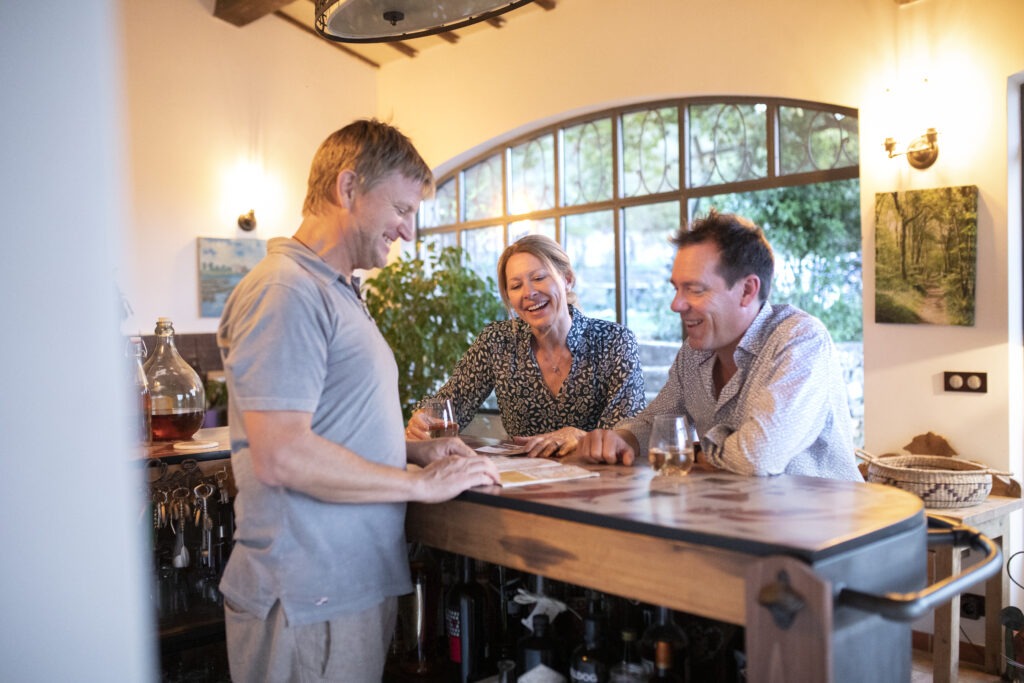 We fell in love with the Mas des Romarins before we even saw the house, as we arrived at the Chapelle de Notre Dame des Cyprès, we knew we were on to something special…
The house
Ett autentiskt provensalskt hus och med en livsstil som matchar
Mas betyder en traditionell stenbyggd bondgård i sann provensalsk stil. Vår mas är en oas av lugn och som har totalrenoverats till hög standard. Vi ligger bland vinrankor och har vår egen olivlund, bikupor och kycklingar. Nära oss ligger fantastiska lokala restauranger, som erbjuder menyer baserade på vad säsongen har att erbjuda. Marknader, historiska städer samt en myriad av aktiviteter som cykling, vattensporter, golf, fantastiska vandringar och promenader väntar dig. Här kan vi verkligen erbjuda dig det bästa, som Provence har att erbjuda. Men ta inte vårt ord för det, varför inte komma och uppleva själva?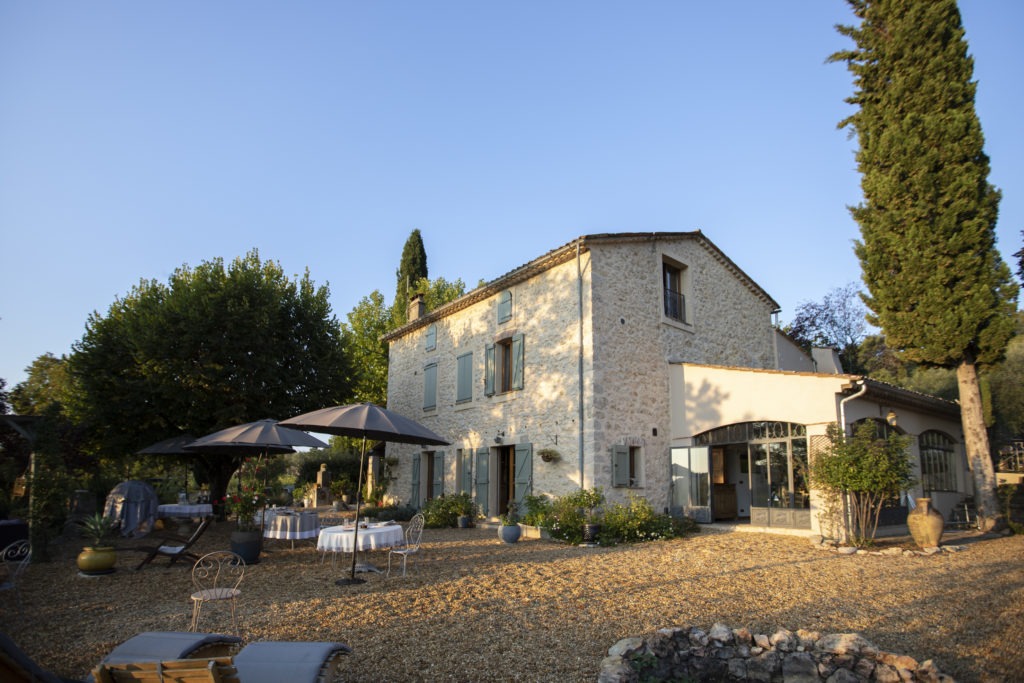 Bed & Breakfast med hög kvalitet – våra ledord
Som ett bed & breakfast tar vi vart och ett av dessa två ord till hjärtat när det gäller kvalitet och uppmärksamhet på detaljer. Från ett urval av kuddar och sängkläder av mycket hög kvalitet, till våra superbekväma "Eve"-madrasser, toalettartiklar från Molton Brown och lokala, säsongsbetonade råvaror till frukost inklusive egen honung och ägg från våra hönor. Vi är stolta över att få de små detaljerna rätt.
The grounds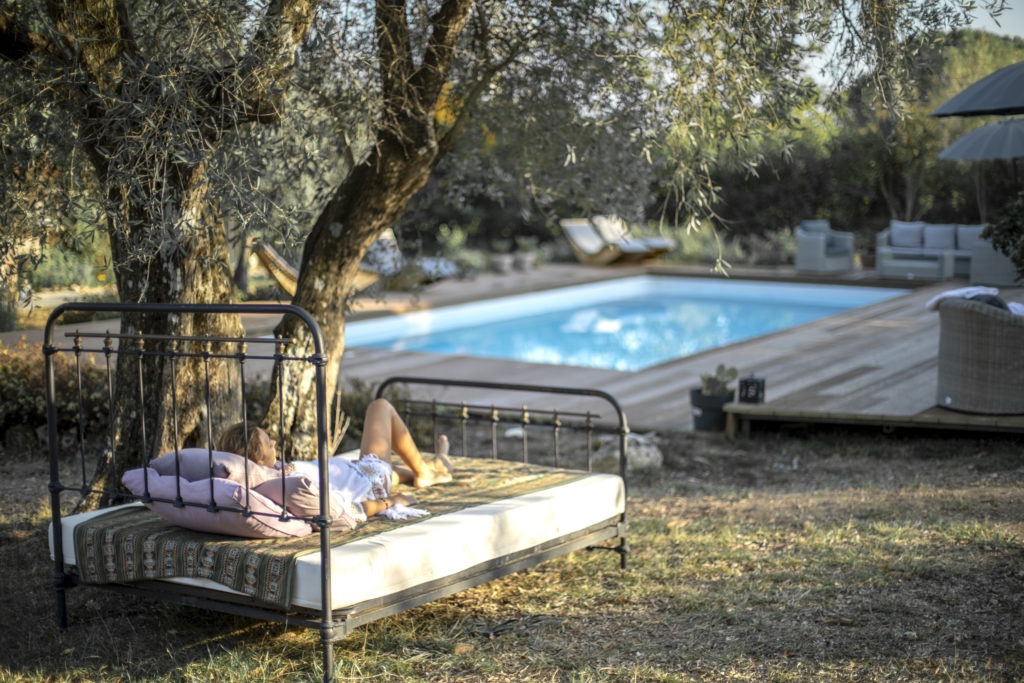 Koppla av och varva ned
Vi har skapat flera platser för umgänge eller för att koppla av utifrån din sinnesstämning och önskemål för stunden. Vi har en stor pool med ett trädäck runt om i skuggan av citrusträd, flertalet solstolar och ett sommarkök i poolhuset med bar. Vi har en damm med trollsländor, guldfiskar och fjärilar – perfekt för en avkopplande stund i solnedgången. Det finns en boulebana för dem som vill komma in i Provencestämningen, ett yogaområde med utsikt över vingårdarna nedanför huset och massor av platser att dra sig tillbaka till med en bok. Vi har bikupor och ett hönshus.
Ecology
Ett Bed & Breakfast med miljön i centrum
Miljön och vår påverkan på närmiljö är något som vi tar på största allvar och vi har vidtagit ett antal åtgärder för att skydda och minimera vår lokala påverkan.
Our environmental charter
RAISING AWARENESS FOR OURSELVES AS WELL AS FOR YOU…
We're very aware of what's at stake and the part we all play in protecting our environment. We've adapted how we welcome you, our guests to make you feel completely at home whilst implementing sustainable tourism, we hope you'll join our efforts.
Our suppliers and product range are carefully chosen, based on environmental sustainability credentials.
Ask us about local flora and fauna and we'll happily explain what's around us and our recent accreditation as a bird sanctuary.
To reduce car reliance we offer alternatives : a shuttle service, free bike loan & hire of electric bikes delivered to the Mas etc.
ENERGY AND WATER SAVING MEASURES WE'VE PUT IN PLACE :
Taps in all our showers and sinks are « Rainforest » designed by Philippe Starck and use 50% less water.
We read our water and electricity meters monthly, to better manage our consumption.
Earthenware « Oyas » in the garden run on a morning-cycle, droplet watering system, reducing water consumption by 60%.
New bulbs are all low wattage or LED "warm-light"; we're phasing out all older bulbs and are over 75% there already.
Movement detectors in communal areas reduce energy waste, we would ask you to turn off lights when leaving your room.
All of our electricity and gas is certified 100% renewable and we use low-power heat pumps for hot water, heating and aircon.
We'd ask you to turn off your air conditioning if leaving for the day, we can turn it back on for you 45 minutes prior to you getting home, if you let us know an approximate arrival time.
WASTE REDUCTION & RECYCLING :
We've several recycling points around the property, to sort glass, from plastics and packaging and papers.
We sort and recycle wherever we can, organic matter is fed to our chickens or the compost, and avoid excess packaging on purchases wherever possible.
We've a free, filtered water service in glass bottles, and encourage you to use this to reduce single-use, plastic water bottles.
We've signage to help you join us in recycling as much as possible, in accordance with local regulations.
All disposable cutlery and tableware has been removed but we're happy to provide chinaware for any meals on-site.
YOUR WELLBEING IS PARAMOUNT TO US :
We offer a good range of local, artisan-produced products typical of our region.
Our breakfast menu offers several home made items, as well as other locally-sourced, fairly-traded, organic options.
Our cleaning products are eco-labelled, improving air quality and reducing health hazards from chemicals.
Our rooms are all non-smoking.
AND LASTLY, TO ROUNDUP :
Our grounds are maintained without pesticides nor artificial fertilizers, and our ewes help keep the grass under control.
We partner with local recycling points, offering a second life to "retired" furniture and fittings.
Each year we look at new ways and criteria to assess how we are doing and make continuous improvements, so please let us have any good ideas you can think of.
Thanks in anticipation for your support for our efforts during your stay with us, we hope you enjoy it !
Vår historia
Innan vi ens hade hunnit se huset hade vi förälskat oss i Le Mas des Romarins. När vi körde genom den lilla byn, genom vinfälten och rosenodlingarna och rundade La Chapelle de Notre Dame des Cyprès för att komma till huset, så förstod vi att vi var på väg mot något alldeles speciellt. Förväntningarna och känslan växte…
Den här delen av Provence är fantastisk och vi hade letat efter ett större ställe med mark där vi kunde skapa ett diskret, lyxigt bed & breakfast mitt i naturen. Huset hade stått tomt i över 6 år och var i stort behov av renovering. Köpet slutfördes och vi flyttade in i ett tält på tomten för att påbörja mycket av rivningsarbetet själva. Det var en lång och krävande, men enormt givande sommar när denna "Grand old lady" började avslöja sin sanna, forna skönhet.
Vi tog bort putsen för att ta fram de ursprungliga stenväggarna och tog ner väggar för att skapa en mer generös och sammanhängande yta. Vi har dragit om all el, lagt om tak, nya rörledningar, målat och putsat om precis allt. Vi installerade 5 nya badrum och 7 nya toaletter, en ny septiktank och avfallssystem samt restaurerade verandan – "orangeriet" – vårt soliga barområde och vackra frukostrum med utsikt över den vackra byn Fayence.
Vi hoppas att du kommer att älska att vara här lika mycket som vi gör…
Vår filosofi
Att vara en del av vårt lokala samhälle och skydda det rika arkitektoniska arvet i Fayence och Provence är mycket viktigt för oss. Vi är stolta över att vara medlemmar i Fayence Patrimoine, som skyddar och återställer lokala arkitektoniska pärlor och verkar för att lokala traditioner och seder lever vidare. För att stödja deras arbete donerar vi €5 per såld natt, per rum.

Vi bestämde oss för att vi ville gå tillbaka till vad som för oss är viktiga värderingar. Vi har haft turen att resa brett, både professionellt och privat, och på varje resa har vi märkt att det var de små detaljerna och de omtänksamma inslagen, som alltid stannat kvar hos oss och gjort resan unik.
Det är det som ligger till grund för allt vi nu har gjort under restaureringen och utvecklingen av vårt bed & breakfast. Vi hoppas kunna förmedla denna passion och göra din vistelse hos oss till en perfekt upplevelse.

Vi hoppas att du kommer att hålla med oss efter din vistelse här på Le Mas des Romarins.
Our accreditations & partnerships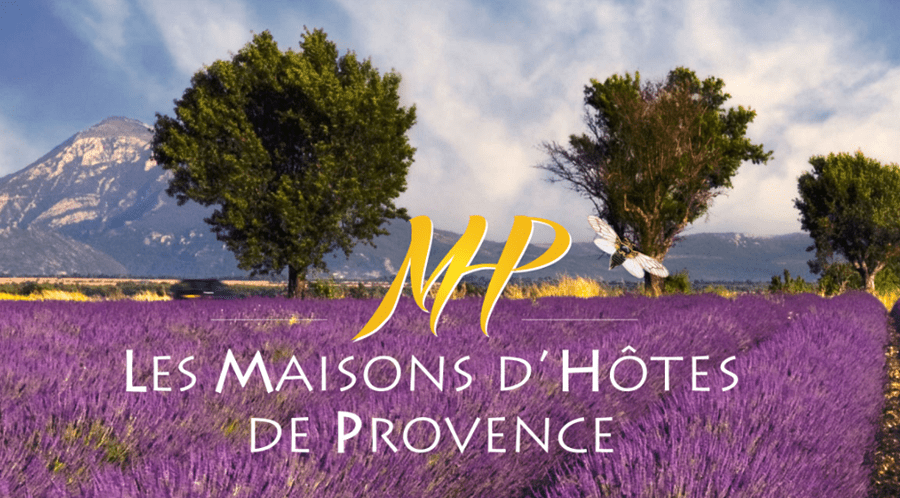 Les Maisons d'Hôtes de Provence
We're proud to be a member of l'Association des Maisons d'hôtes de Provence. The "MHP-Guest Houses in Provence" is an independent network created 15 years ago and bringing together 26 authentic Provençal Bed & Breakfasts that share the same sense of hospitality and high quality of service.
Each Bed & Breakfast is unique and has its own charm. Experience Provence in one of the most beautiful regions in France, whether for a romantic weekend, a great holiday, a relaxing professional training course, a wedding or honeymoon… Every occasion will be an unforgettable trip within the MDP Bed & Breakfast network!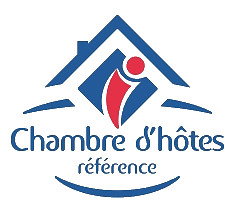 Chambres d'hôtes référence
Bed and breakfast offerings are growing fast and it can be challenging for travellers to know what level of quality they are likely to find.
Chambres d'Hôtes de Référence is the answer to this dilemma proposed by the French Tourist Office network.
Establisments who earn the accreditation meet a number of minimum quality standards and offer travellers a commitment to maintanining them and offering facilities and a welcome of thie highest standard.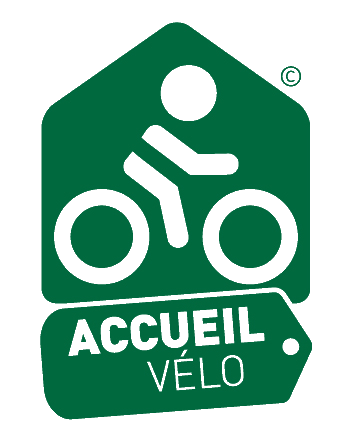 Accueil Vélo
We've been recognised since 2021 as a fully accredited cycling partner establishment when we were awarded our Accueil Vélo accreditation. But what does that actually mean for you as a cyclist? Well, it means we offer cycling-specific information such as practical guides, cycle routes, what to see and do, where to eat, weather updates, details of local cycle repair shops, cycle equipment hire etc… All of which we trust will be useful during your cycling stay at the Mas des Romarins.